Blue Mountain No.1 coffee beans 200 g

Roast after your ordering. After that, it will be shipped by EMS immediately.
We use 100% of the Blue Mountain No.1 Coffee.

It is used means the highest quality in one of the few Blue Mountain No.1 100% authentic Blue Mountain coffee.

Beans of Screen 17/18 sizes with maximum defects of 2% and maximum of 4% smaller (lower case) beans.

Japan imports more than 70% among Blue Mountain Coffee from long time ago.
Then the Japanese Blue Mountain Coffee is genuine.

I enter the barrel of the tree and am imported.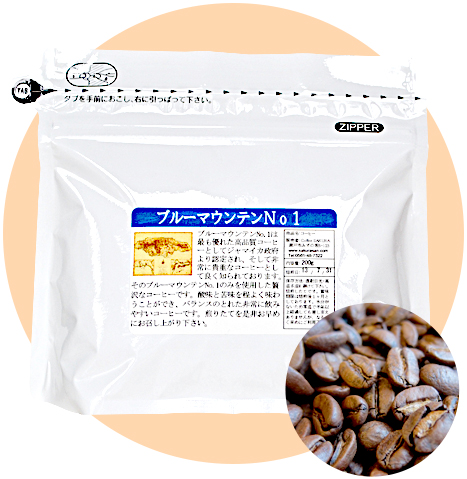 —- For more product information —-
Content amount 200 g
Raw materials Coffee beans
How to save As possible store at room temperature in a cool place, avoiding direct sunlight, high temperature and humidity if you banged it drink in as little as two weeks.
Put in Ziploc bags, including package to retain more than two weeks, refrigerated and frozen storage please.
Shelf life expiration date 1 month
This product is manufactured. Please note that it will take 1-2 weeks to arrive.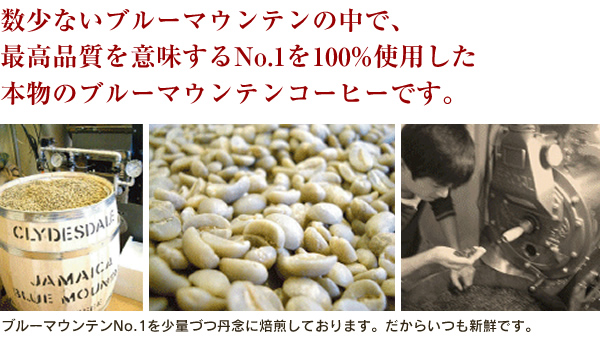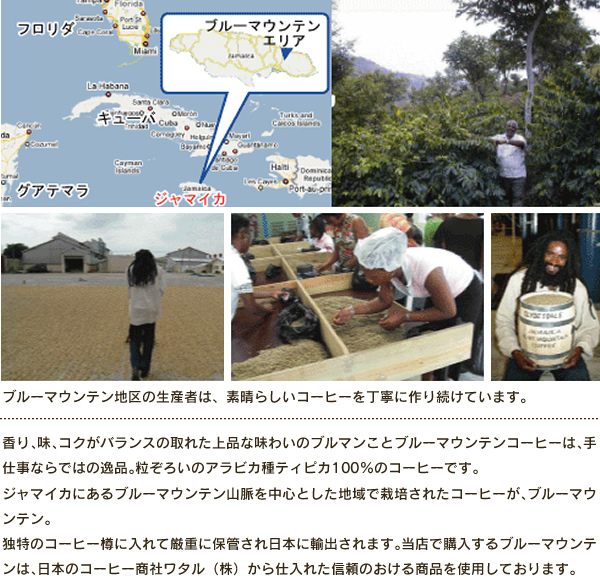 Price: 5,510 JPY

How to grind :Please choose 1)~5)
1)Whole bean
2)Medium powder
3)Coarse
4)Fine powder
5)Espresso use

—- Shipping Cost —-
Your order will be shipped to you via Japan Post EMS. Japan Post is a speedy delivery service that delivers to more than 120 countries. With an effective tracking system and insurance program, EMS is able to offer a secure delivery worldwide. You can track your package with the tracking code provided and it will be delivered within a week. See estimated shipping fee.
Weight
Asia
Oceania
North America
Central America
Middle East
Europe
South America
Africa
Up to 500g
1,400 yen
2,000 yen
2,200 yen
2,400 yen
Up to 600g
1,540 yen
2,180 yen
2,400 yen
2,740 yen
Up to 700g
1,680 yen
2,360 yen
2,600 yen
3,080 yen
Up to 800g
1,820 yen
2,540 yen
2,800 yen
3,420 yen
Up to 900g
1,960 yen
2,720 yen
3,000 yen
3,760 yen
Up to 1.0kg
2,100 yen
2,900 yen
3,200 yen
4,100 yen
Up to 1.25kg
2,400 yen
3,300 yen
3,650 yen
4,900 yen
Up to 1.5kg
2,700 yen
3,700 yen
4,100 yen
5,700 yen
Up to 1.75kg
3,000 yen
4,100 yen
4,550 yen
6,500 yen
Up to 2.0kg
3,300 yen
4,500 yen
5,000 yen
7,300 yen
Up to 2.5kg
3,800 yen
5,200 yen
5,800 yen
8,800 yen
Up to 3.0kg
4,300 yen
5,900 yen
6,600 yen
10,300 yen
Up to 3.5kg
4,800 yen
6,600 yen
7,400 yen
11,800 yen
Up to 4.0kg
5,300 yen
7,300 yen
8,200 yen
13,300 yen
Up to 4.5kg
5,800 yen
8,000 yen
9,000 yen
14,800 yen
Up to 5.0kg
6,300 yen
8,700 yen
9,800 yen
16,300 yen
—- Payment —-
Paypal

—- How to order —-
Email: sakura@coffeesakura.co.jp
Title: Order beans
Text:
Name
Address
Phone No.

Blue Mountain No.1 coffee beans 200 g(@5510JPY) x pcs
How to grind :Please choose 1)~5)
1)Whole bean
2)Medium powder
3)Coarse
4)Fine powder
5)Espresso use